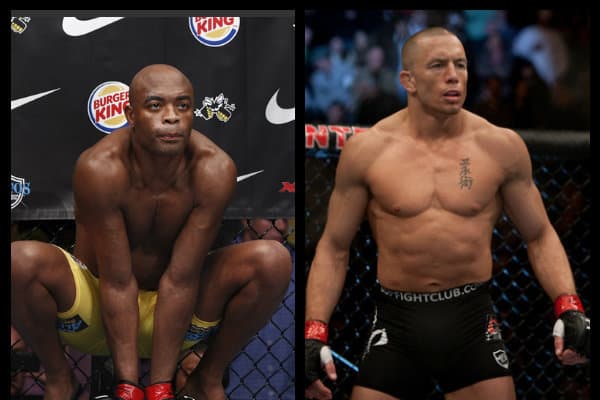 Anderson Silva
For years, when fans tried to figure out just who was the best fighter in the world, a debate between Georges St-Pierre and long-time former middleweight king Anderson Silva would soon follow.
Many felt as if Silva was No. 1 with his record setting 16-straight UFC wins, and 10-straight title defenses, while St-Pierre sat at a close No. 2, owning nine consecutive title defenses.
Just one weight class apart, the idea of a potential super fight between the two was constantly talked about, and dreamed about, and at points it seemed as if it was close to fruition. Ultimately, the fight was never made.
Now, both men are no longer title holders. While St-Pierre obviously vacated his belt, "The Spider" seemed to have experience a downward spiral of sorts.
He was shockingly knocked out by current champion Chris Weidman at UFC 162, then snapped his leg in the rematch at UFC 168, losing two-straight bouts that left his future unclear. After a miraculous recovery, Silva returned last January to score a victory over Nick Diaz, but it would soon be made clear that he had tested positive for anabolic steroids, putting a beating on his reputation.
Silva was given a one year suspension, and will be eligible to fight next January. At age 40, the Brazilian has shown no indication of retirement, and he will be returning right around the time that GSP could be making his possible return.
Why not make the super fight that never was?
Although both men aren't the same as they were years ago, it'd be hard to believe that fans wouldn't tune in to see two of the best of this generation finally square off.
The bout would also make sense for the Canadian as it would give him a tune up against a fellow ageing veteran rather than being thrown to the sharks of the welterweight division.

Could you imagine UFC 200 next July: Silva vs. St-Pierre?