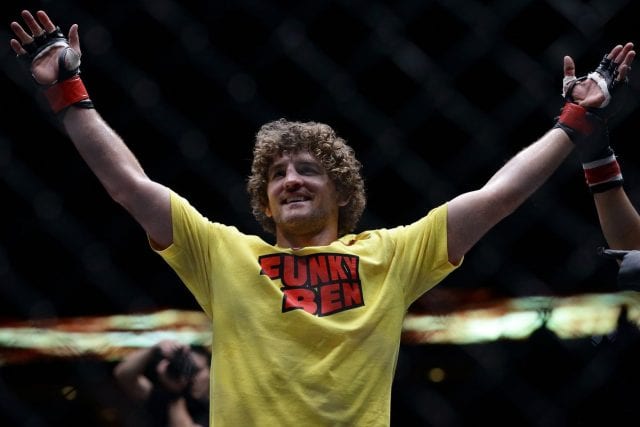 "Funky" Ben Askren doesn't know who his next opponent will be but he is 100% down to scrap with Stockton's Nick Diaz.
After Askren made an appearance on today's Ariel Helwani's MMA show, AJ Agazam, friend and training partner of Diaz, stirred the pot a bit on Twitter. His target were Askren and even Colby Covington:
.@TheFloridaBoy says that @nickdiaz209 will fight if the money makes sense or if he has a reason to. Thinks Nick would fight @Benaskren or @ColbyCovMMA. #HelwaniShow @arielhelwani

— MMA On Point (@OnPointMMA) March 18, 2019
As you might have guessed, Askren didn't waste much time responding to Agazam.
Well @nickdiaz209 don't have to ask me twice, just call @danawhite and sign me up

— Ben Askren (@Benaskren) March 18, 2019
Askren's stock has never been higher. He defeated Robbie Lawler at UFC 235, albeit under questionable circumstances. Regardless, he has been lobbying for a high profile fight, and it doesn't get much "higher" profile than a Diaz brother.
Nick Diaz however, hasn't competed since January of 2015 when he and Anderson Silva fought to a no contest. He recently explained why he had no interest in returning to fighting but MMA fans have come to expect the unexpected when talking about a Diaz brother.
If you enjoyed this story, please share it on social media!