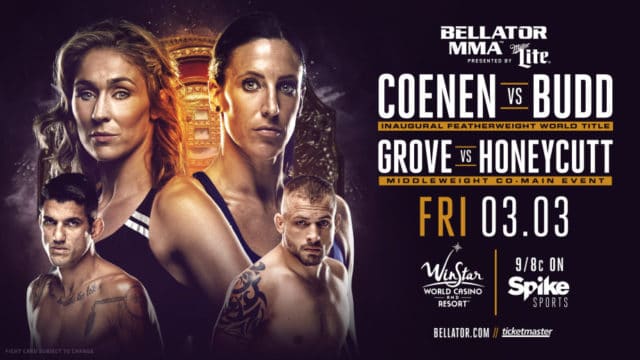 Bellator officials held the weigh-ins for Bellator 174 on Thursday and you can watch them here:
Bellator 174 takes place on Friday, March 3, 2017 at the WinStar World Casino in Thackerville, Oklahoma. The prelims will air online while the main card will air on Spike TV at 9 p.m. ET.
Four bouts will take place on the main card. The main event is scheduled to be Marloes Coenen vs. Julia Budd for the inaugural Bellator women's featherweight title while Mike Rhodes vs. Kendall Grove in a middleweight bout will serve as the co-main event. Rounding out the main card is Brandon Girtz vs. Fernando Gonzalez in a welterweight bout and Steve Garcia vs. Joe Taimanglo in a bantamweight bout.
Here are the weigh-in results:
MAIN CARD (Spike, 9 p.m. ET)
Marloes Coenen (144.7) vs. Julia Budd (144.8) – for inaugural women's featherweight title
Fernando Gonzalez (173.9) vs. Brandon Girtz (165.6)
Roman Pizzolato (242.6) vs. Justin Wren (234.4)
Rafael Lovato (193) vs. Charles Hackmann (194.8)
PRELIMINARY CARD (Online, 7 p.m. ET)
Emmanuel Rivera (150.7) vs. Treston Thomison (147.3)
Jonathan Gary (154.4) vs. Cody Pfister (155.6)
Katy Collins (125.8) vs. Emily Ducote (124.1)
Alexis Dufresne (145.3) vs. Gabrielle Holloway (146)
Justin Patterson (174.5) vs. Jason Witt (170.6)
If you enjoyed this story, please share it on social media!