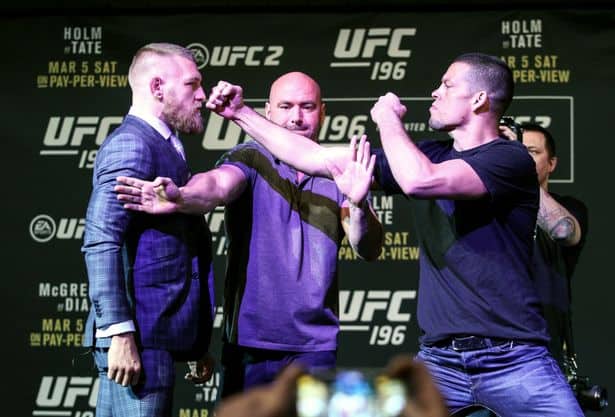 1) Conor McGregor vs. Nate Diaz
Reigning UFC lightweight champion Conor McGregor is without question the very best trash talker of all-time. The brash Irishman has ridiculed every man he's been matched up against, but when he was paired against outspoken bad boy Nate Diaz, fans knew we were in for a treat.
Diaz accepted his first fight with McGregor at UFC 196 on just 11 days notice and those 11 days proved to be amongst the most entertaining in MMA history in terms of hype, build-up and promotion. The two fighters quickly got to work throwing verbal shots at each other through multiple press conferences and to be fair, the trash talk battle actually started months before when Diaz called out McGregor after his UFC on 17 victory.
After Diaz shocked the world and submitted McGregor, it was clear that a rematch was necessary and the two once again faced off at UFC 202. Once again the trash talk was alive and evident leading up to the bout and with McGregor winning the rematch, a trilogy is expected at some point.
Did we miss any of your favorite trash talk battles?