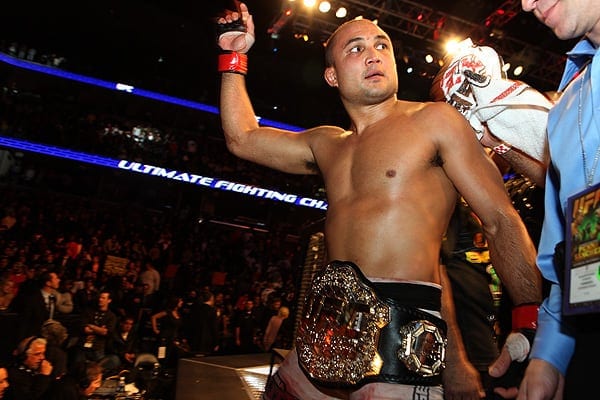 Although our most recent memories of BJ Penn inside of the Octagon may be difficult to digest, the former UFC lightweight and former UFC welterweight champion remains as a pioneer of the sport, and simply one of the most influential mixed martial artists of all-time.
That being said, heads were turned when the 37 year old Penn confirmed earlier this week that he would be making a return to competitive fighting.
"The Prodigy" had previously went into retirement after suffering a brutal beat down at the hands of Frankie Edgar back in 2014, a fight that marked his third consecutive loss.
Now apparently re-motivated and rejuvenated, "The Prodigy" is ready to make a comeback training under the tutelage of world class coaches Greg Jackson and Mike Winklejohn.
Despite some not being in favor of Penn's decision, it should be interesting to see what he makes of the opportunity.
As one of only two men to hold titles in two different weight classes, "The Prodigy" has sure had an illustrious career. Ahead of his upcoming return, let's take a closer look at five of BJ Penn's best moments: