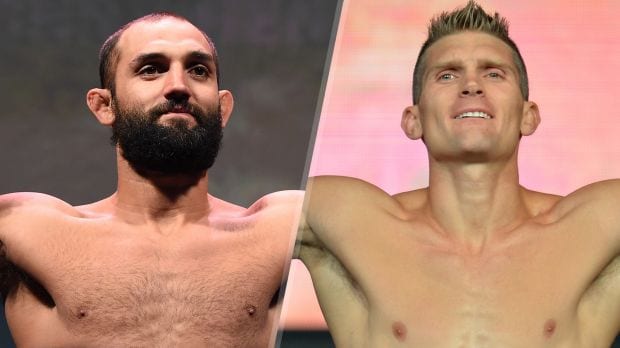 The Winner of Johny Hendricks vs. Stephen Thompson
I'm not sure if this is the most likely option either, but it definitely could be in the works.
No. 3-ranked former champion and two-time Lawler foe Johny "Bigg Rigg" Hendricks is set to take on rising contender No. 8-ranked Stephen "Wonderboy" Thompson at next month's UFC 196.
Hendricks and Lawler have split wins in their two bouts, with Hendricks coming out victorious the first time around at UFC 171, and the "Ruthless" one getting the nod at UFC 181.
"Bigg Rigg" was expecting the next crack at the title when Condit was awarded the shot, and he was instead paired off with Tyron Woodley at UFC 192.
Hendricks vs. Woodley was thought to be a title eliminator bout until Hendricks was forced out of the fight just a day before weigh-ins.
The UFC wasn't too pleased with Dana White even saying that "Bigg Rigg" would have to move up to middleweight, but it appears as if Hendricks will get another shot at 170 pounds. If he can get past Thompson, there is a slight chance the UFC could put together his trilogy bout with Lawler.
For Thompson, the 32-year-old has won an impressive fight straight in the Octagon and could very well be considered the best striker in the welterweight division. Adding a win over a former champion like Hendricks to his resume could be enough to warrant "Wonderboy" a title shot.

A bout between Lawler and Thompson would be quite the fan fight as well.