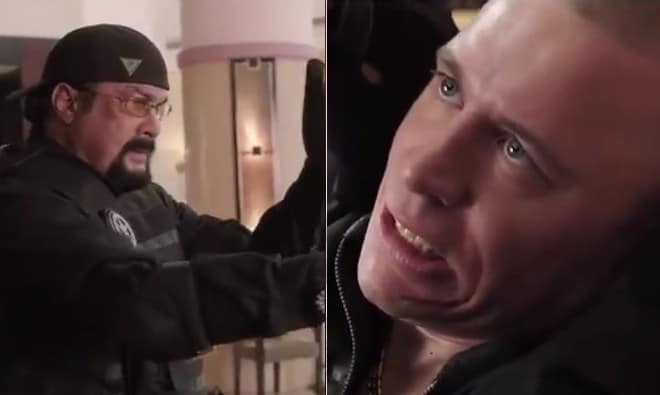 2. Georges St-Pierre
Former UFC welterweight king Georges St-Pierre is no stranger to spotlight. In Canada St-Pierre is known as a national icon and one of the biggest stars the country has ever produced.
After ruling the UFC Octagon in the 170-pound weight division, 'GSP' decided it was time to hang up his gloves for a bit and take on the stars of Hollywood instead.
St-Pierre has had some experience in film with his debut being in 2009 when he played a Shaman on Death Warrior, and then himself in the 2009 film Never Surrender alongside many other big named UFC stars at the time.
'GSP's' biggest role to date, however, was as Georges Batroc in Captain America: The Winter Soldier in 2014. St-Pierre and the Marvel hero engaged in an epic fight scene, but the Shield proved to be too much for the former UFC champ to handle.
He also engaged in an epic fight scene with the great Steven Seagal in Kickboxer: Vengeance, in which St-Pierre was ultimately left bleeding out on the floor like a stuck pig after Seagal jammed a knife into the Canadian's neck:
https://www.youtube.com/watch?v=hFNoEtsxJkE