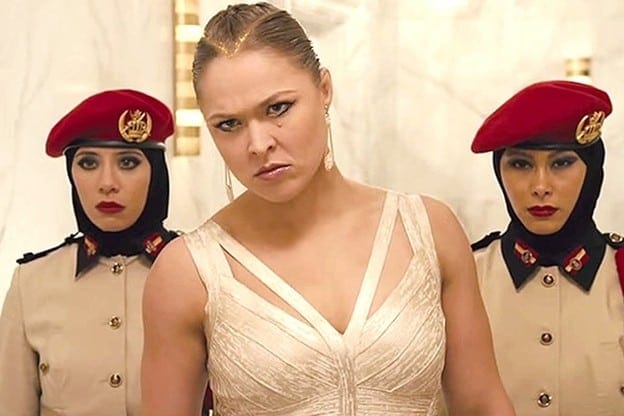 1. Ronda Rousey
Of course she's number one, who else did you expect?
Ronda Rousey is arguably the biggest star the world of MMA has ever produced, as her ability to kick butt and look good while doing it have earned her endless opportunities to make big money outside of the Octagon as well.
While 'Rowdy' dominated the UFC's women's bantamweight division, having finished fights in as quick as 16 seconds, Rousey would make her big screen debut in The Expendables 3 co-staring alongside action movie stars Sylvester Stallone, Jason Statham, Jet Li, and more.
She then would land a role in the blockbuster Hollywood franchise Fast And Furious in Furious 7, in which she played Kara and took part in an epic fight seen with Michelle Rodriguez.
Rousey also co-starred in the 2015 film Entourage in which she played herself as one of the main character's love interests. She also showed off her skills in the cage in the following scene:

Although she may no longer be undefeated in the Octagon, Rousey still has plenty of film offers lined up as she is slated for three more films, playing the lead in two.