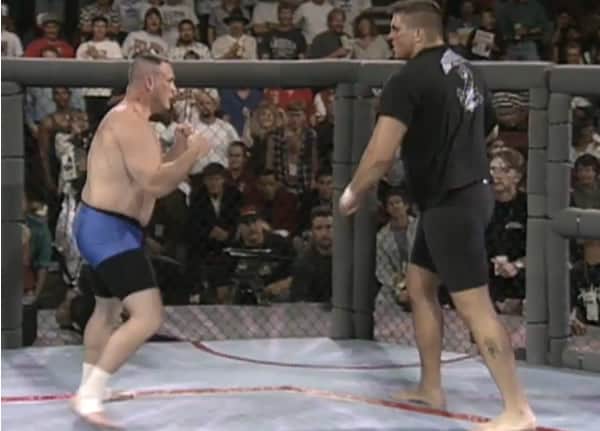 Paul Varelans vss. Cal Worsham
Back at UFC 6 in 1995 the organization still very much in its 'Wild West' period with no weight classes in place and few rules.
As such, coming in on just over a week's notice to make his MMA debut, the 5′ 10", 230lb Cal Worsham was dwarfed by the 6′ 8", 300-pound Paul Varelans.
Despite the size disparity, Worsham met Varelans in the center of the cage and immediately started trading with him toe-to-toe, drawing blood in the process.
The two fighters then clinched up and continued recklessly slugging it out, expending a great deal of energy in the process.
Approaching the one minute mark in the fight Varelans broke out of the clinch and landed a few hard punches that forced Worsham to take a few backwards steps.

From his towering vantage point, Varelans then simply stepped forward and dropped a thunderous elbow strike down on Worsham's head, which sent him face-first down to the canvas, unconscious, for a brutal KO finish.