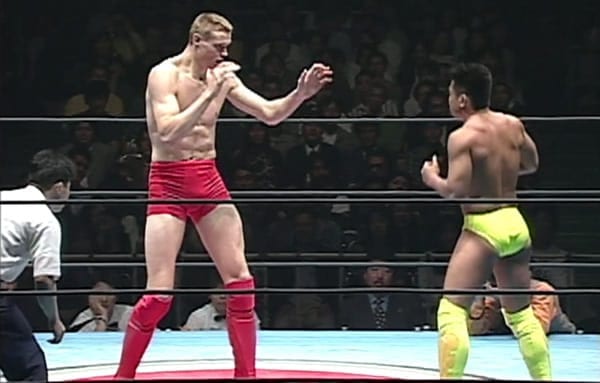 Semmy Schilt vs. Manabu Yamada
Long before he became a kickboxing legend, the 6′ 11", 290-pound Dutchman Semmy Schilt was an MMA fighter, with his debut coming all the way back at Pancrase 5 in May of 1996.
His opponent, Manabu Yamada was vastly more experienced, holding a record of 18-9-2 at the time and had already gone up against a number of star of that era, including the likes of Bas Rutten, Frank Shamrock and his brother Ken Shamrock to name but a few.
However, Yamada had never faced a living giant like Schilt, who towered over him by 14" and outweighed him by the best part of 70 pounds.
Schilt dished out some early punishment in the fight, using his lanky frame to it's full advantage by nailing Yamada with a couple of knee strikes, then a leg kick, followed up by another knee to the head that put the Japanese fighter on his back.
Yamada was still in the fight though and immediately threatened with a leg lock attempt, but Schilt stayed calm, was able to escape and secure top position, then showed he had skill to go with his size by seizing on a fight-ending rear-naked choke when his opponent gave up his back.