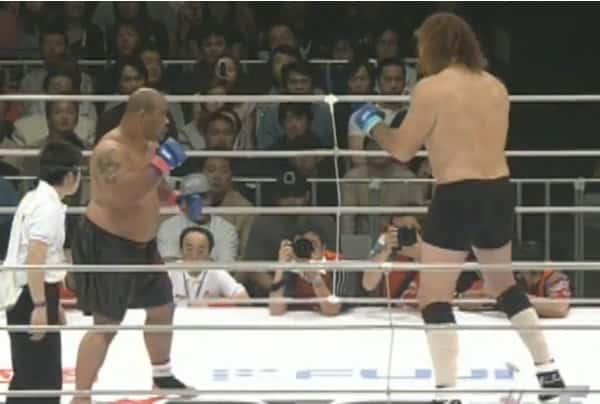 Giant Silva vs. Henry 'Sentoryu' Miller
At 7′ 2" tall and weighing 375 pounds, former Brazilian basketball player Giant Silva truly is one of the most freakishly large specimens ever to compete in the sport of mixed martial arts.
Silva made his MMA debut in the PRIDE organization in late 2003, losing to Heath Herring in the third round by submission, but was intent on getting his first win in the organization just a few months later at the 'Total Elimination 2004' event.
This time Silva would be paired up with the debuting Henry 'Sentoryu' Miller, a former sumo wrestler who least came close to his opponent in terms of weight, tipping the scales at 300 pounds, but at 5′ 9" was giving up an absurd 17" in height.
Next to Silva, 'Sentoryu' looked like a midget, but he started the fight brightly, using his sumo experience to charge forward and press the giant up against the ropes, then successfully took him to the mat.
Silva's size and reach meant that it was actually easier for him to hit Miller than the other way around from full guard even though he was flat on his back.

Miller moved to side control, which nullified that problem, but immediately Silva showed off his submission skills by applying a kimura lock, and despite 'Sentoryu's' best efforts to defend it, the giant's sheer power forced him to tap out to protect his limb.