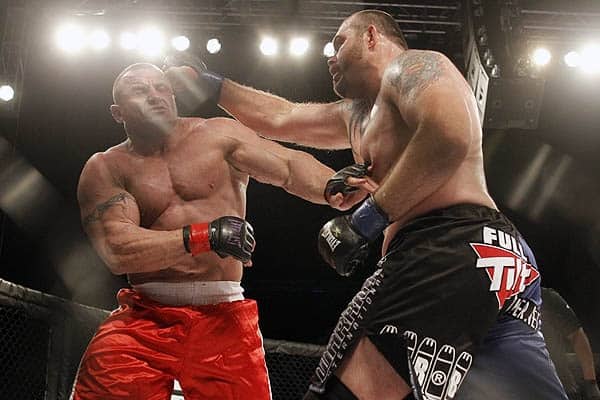 Tim Sylvia vs. Mariusz Pudzianowski
As a former five-time 'World's Strongest Man' winner, there was a great deal of hype behind Polish hero Mariusz Pudzianowski when he first decided to start competing in Mixed Martial Arts.
Initially fighting in his native Poland for the KSW organization, Pudzianowski was fed a couple of easy opponents to begin with and swatted them aside, which led to a much tougher fight with former UFC heavyweight champion Tim Sylvia for the newly formed Moosin promotion in May of 2010.
During his Strongman career, the 6'1" Pudzianowski had weighed as much as 320 pounds and had the physique of a bodybuilder, though by this stage he had cut down to 273 pounds to improve his cardio, while the 6'8" Sylvia was going through a rough patch in his career and had ballooned up to 305 pounds.
Was Pudzianowski truly a super-heavyweight MMA star in the making? This fight suggested otherwise as 'Pudzian's' still freakishly muscular build led to him running out of gas rapidly as he attempted to grapple with 'The Maine-Iac' in the early minutes of the fight.
Pudzianowski's face practically turned purple with exertion as Sylvia calmly began to pick him apart, tagging him repeatedly with straight punches and the occasional hard knee from the thai clinch.

With 'Pudzian' possessing neither the skills nor the stamina to deal with this level of competition, the fight essentially became one-way traffic as Sylvia continued to mark his opponent's already bloodied face up with knees and punches until early in the second round Pudzianowski suddenly just flopped to the mat exhausted, before tapping out due to ground and pound strikes soon afterwards.