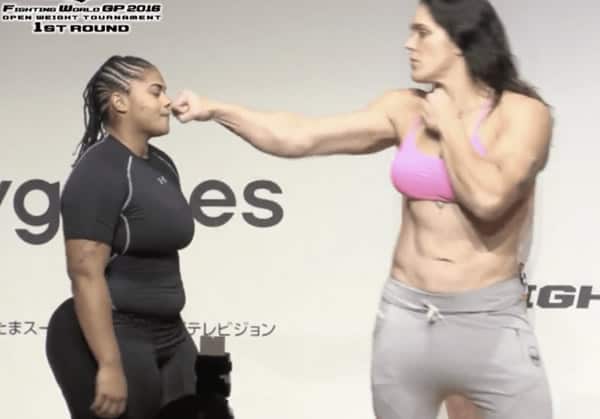 Gabi Garcia vs. Destanie Yarbrough
In woman's MMA it's rare to see a fight above 145 pounds, let alone a true heavyweight match-up, but in 2016 the Japanese promotion Rizin FF made it happen with a match-up of truly gigantic proportions.
In one corner stood 6'2", 245-pound former grappling champion Gabi Garcia, while in the other was the 5'9", 227-pound former pro-football running back Destanie Yarbrough.
The fight started out with tentative exchanges on the feet between the two, who each had only one previous professional fight apiece, but then Garcia was able to drag her opponent to the mat where she's much more comfortable.
From there Garcia softened Yarbrough up with punches and even a knee to the head, before showing of her BJJ skills by setting up an Americana submission, stepping into full mount as she did so to force Yarbrough to tap.