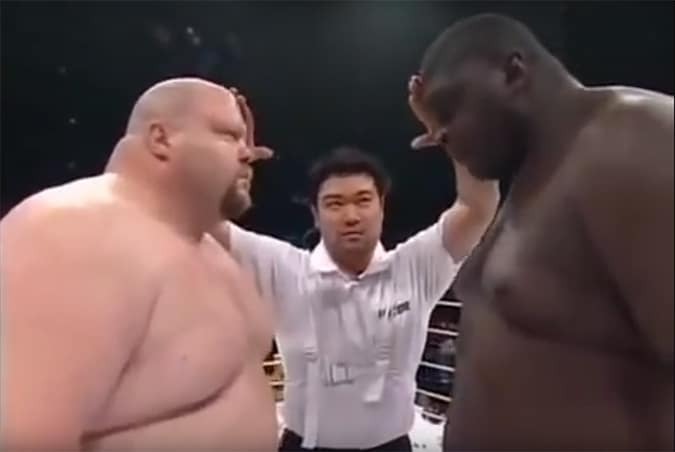 Butterbean vs. Zuluzinho
Japanese promotion PRIDE were the masters of the freakshow, and 'Butterbean' vs. 'Zuluhinho' was definitely right up there with the freakiest fights they ever put on.
Both fighters weighed in at a scale-busting 407 pounds for the bout, though at 6'7" tall, Zuluzinho had an 8" reach advantage over the bowling-ball shaped Eric Esch for their fight at PRIDE 34 in 2007.
Butterbean was a super-heavyweight boxer long before his MMA career, but nonetheless it was Zuluzinho who waded forward throwing heavy leather as the fight began.
However, when Esch staggered him with heavy artillery of his own, Zulu quickly switched to clinching up with him instead and then attempted to throw him to the mat.
The takedown didn't go according to plan though as Butterbean's rotund belly seemed to aid him as he rolled his opponent off and got on top.

Esch then used his massive bulk to keep Zuluzinho in place for an extended period of time as he landed ground and pound, then showed he wasn't just a puncher by applying a kimura submission for the finish mid-way through the opening round.