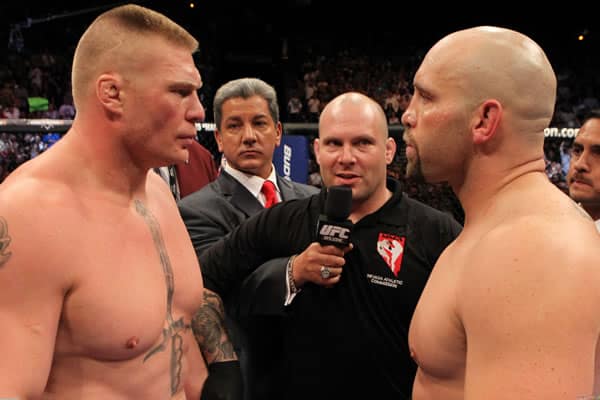 Brock Lesnar vs. Shane Carwin
If the UFC had a super-heavyweight division then there's no doubt that Brock Lesnar and Shane Carwin would have fought in it.
Prior to his MMA career the 6'3" Lesnar was known to walk around at as much as 320 pounds, while the 6'2" Carwin was in a similar position, having originally fought at super-heavyweight, but the fact that they were both genetic freaks meant that even at their biggest they still looked in excellent shape.
Even at the UFC heavyweight limit of 265 pounds they still possessed physiques like a cartoon action hero for what would prove to be a truly memorable title clash of the titans at UFC 116 in the summer of 2010,
Carwin was utterly dominant in the opening five minute spell that night, initially wobbling Lesnar with an uppercut, then a big knee which would lead to the champion slumping to the canvas.
Carwin followed him to the mat and unleashed a relentless barrage of ground and pound blows, but despite being famed for his otherworldly knockout power, he couldn't finish the battered, bleeding and bruised Lesnar, and so the fight went to the second round.
Despite having endured a nightmare first round, Lesnar still grinned across at his opponent as they prepared for round two, and he had good reason to smile as it turned out that Carwin was essentially now running on fumes after having gassed himself out while looking for that emphatic first round finish.

Lesnar was able to capitalize on that, taking Carwin to the mat before showing off a rare glimpse of his submission skills to tap out the exhausted challenger with an arm triangle choke midway through the round.