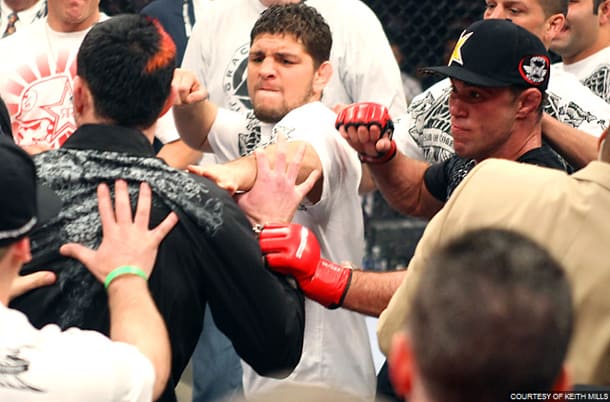 9. Diaz Brothers' Strikeforce On CBS Brawl
Another instance where fighters just couldn't keep the violence within regulation. After Jake Shields beat Dan Henderson years back, Jason "Mayhem" Miller stormed the cage politely demanding a rematch with the then-Strikeforce middleweight champion.
Shields' pals Nick and Nate Diaz, flanked by Strikeforce lightweight champion Gilbert Melendez, quickly jumped "Mayhem" live on CBS to horrified executives who could only look onward as MMA's legitimacy on network television went up in flames.
The Strikeforce brawl forced MMA off of big network television for years, and the bad boy reputation the Diaz brothers earned here has followed them ever since.
If you enjoyed this story, please share it on social media!