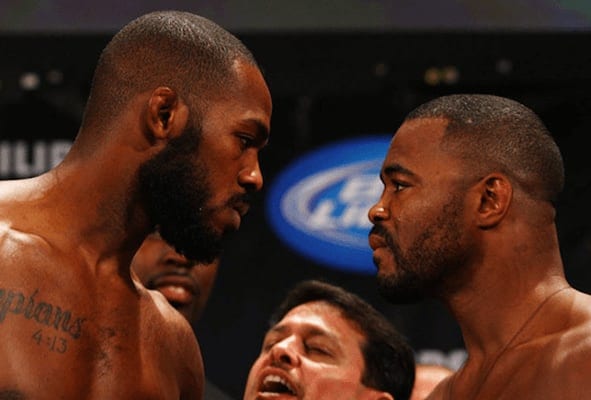 2. Jon Jones vs. Rashad Evans
When Jon Jones first attempted to join Greg Jackson's gym, fellow UFC light heavyweight star Rashad Evans expressed reservations given that they were both on their way to title contention at 205 pounds.
However, Jackson convinced him that they wouldn't have to fight each other and it wasn't long before they became each other's main training partner and developed a close friendship.
Things then turned ugly when Jones stated on 'The MMA Hour'  show that he would fight Evans if UFC president Dana White told him too. Evans saw that as a betrayal and so just weeks later he entered the Octagon to call out Jones, who had just won the 205-pound title against Mauricio 'Shogun' Rua.
The fallout between them would lead to Evans departing their camp, while the two stars started a war of words online and even had a face-to-face verbal confrontation at the 'Surrender' nightclub in Las Vegas a few months later, which Georges St-Pierre allegedly broke up.
Injuries would delay their showdown, but after a relentless trash-talking campaign in the pre-fight build-up, during which Evans claimed to have got the better of his former teammate when they trained together, they finally locked horns at UFC 145 in April of 2012 with Jones emerging victorious by unanimous decision.