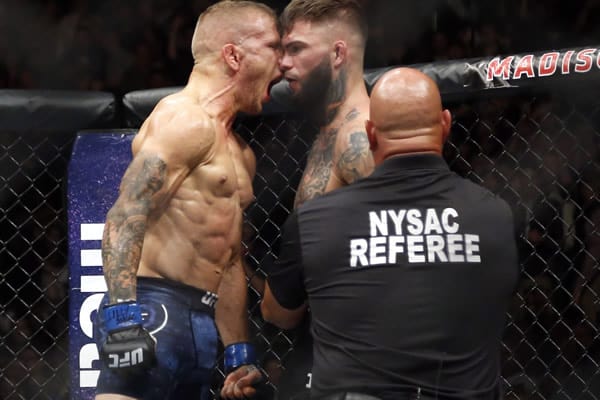 3. Cody Garbrandt vs. TJ Dillashaw
For many years Team Alpha Male had one of the most tight-knit camps in the sport, but behind the scenes, cracks began to show.
At the epicenter of the fallout was the bantamweight champion at the time, TJ Dillashaw, who announced in 2015 that he was leaving the gym in California to continue training with the camp's recently departed head coach Duane Ludwig in Denver.
TAM leader Urijah Faber was upset by his protégé's decision and banned him from returning in the future while rising star Cody Garbrandt made it clear he saw Dillashaw's departure as a betrayal.
The feud only intensified as allegations emerged that Dillashaw had been a bully at the gym and had intentionally hurt fellow UFC fighter Chris Holdsworth in practice, contributing to the concussion-related issues that would force him to stop competing.
Spoiling for a fight, Garbrandt claimed that he had video evidence that he'd KO'd Dillashaw in practice, and when he became champion in late 2016 the UFC opted to put the two as opposing coaches on TUF, leading to more fireworks, with 'No Love' grabbing his rival around the throat on the show as tempers flared.

The two had a chance to settle their differences in the Octagon at UFC 217 last year and it was Dillashaw who slayed his rival courtesy of a second-round TKO stoppage to win back the title, though that may not be the last we hear of this ongoing feud.