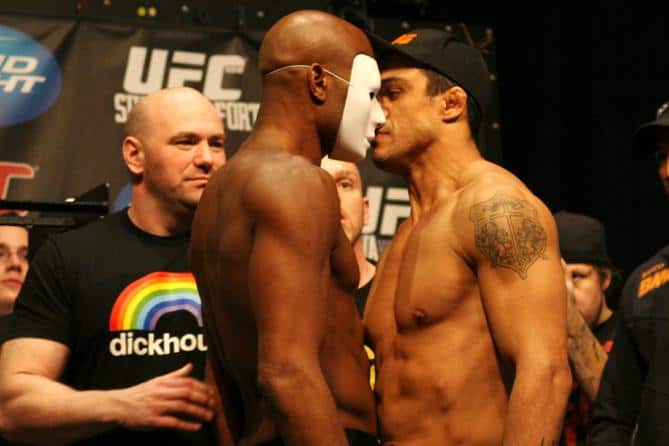 4. Anderson Silva vs. Vitor Belfort
There was an electrifying energy surrounding Anderson Silva's middleweight title fight showdown with Vitor Belfort at UFC 126 in 2011 thanks to a simmering feud between the two Brazilian legends.
Silva was a longtime member of the Team Nogueira camp in Brazil and had become training partners with Belfort when he also joined the academy.
The team had an unwritten code that they would never fight each other, but one day Belfort defied that by announcing that he wanted to become the UFC's middleweight champion, even though Silva was the long-time titleholder at the time.
That sent shockwaves through the gym, but Belfort's mind was made up.
During the pre-fight build-up, Belfort accused Silva of being "two-faced," and in response, 'The Spider' infamously showed up for the weigh-ins wearing a white mask, leading to one of the most intense staredowns in UFC history.

The hype surrounding this classic encounter almost single-handedly took MMA mainstream in Brazil and the fight itself would also provide an unforgettable finish, with Silva landing a perfectly placed front kick to the face in the first round that KO'd his rival.