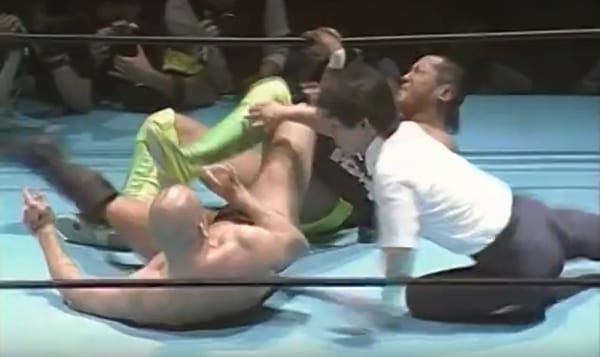 Snapping Opponent's Shin In Half
Most fighters spend many hours in the gym perfecting a submission before they ever use them in an actual fight, but Bas Rutten.
All the way back at Pancrase: Road To The Championship 1 in 1994, Rutten was watching a preview for the event on a giant screen in Tokyo when he saw someone performing an inverted heel hook, and it instantly struck a chord with him.
The following day, Rutten stepped into the ring to fight Kazuo Takahashi, and sure enough, barely a minute into the fight, an opportunity to attempt the move he'd seen on the big screen presented itself and he seized upon it.
However, since Rutten had never actually practiced the move before, he didn't quite appreciate the subtleties of it and how devastating it can be, so as he dropped back with Takahashi's foot he ended up all-but snapping the unfortunate Japanese fighter's shin.
In pain, but not realizing how badly damaged his leg was, Takahashi stood up and threw a leg kick, which was checked by Rutten and broke his opponent's shin completely.
According to Rutten, Takahashi spent a six-month stay in the hospital as the result of the injury and an infection he received afterward, and as such wasn't able to return to action for 13 months after the fight.
If you enjoyed this story, please share it on social media!