Jason 'Mayhem' Miller
A popular fighter throughout his career, Jason 'Mayhem' Miller was brought back into the UFC in 2011 and featured as a coach on 'TUF Season 14', but subpar performances against Michael Bisping and CB Dollaway, combined with a backstage altercation with a member of staff, led to him being released and then announcing his retirement a year later.
Still only 31 years old at the time and struggling to come to terms with the bitter end to his career, 'Mayhem' soon began living up to his nickname as less than three months later he was arrested sleeping naked in a church that he'd broken into and vandalized.
A year later Miller was arrested twice in the space of a month for domestic abuse against his girlfriend, and then several months afterwards for violating a 'stay away' order.
Fast-forward another year and 'Mayhem' again hit the headlines for being involved in a five-hour standoff with SWAT police at his home in California after refusing to speak to officers in relation to domestic abuse and stalking allegations.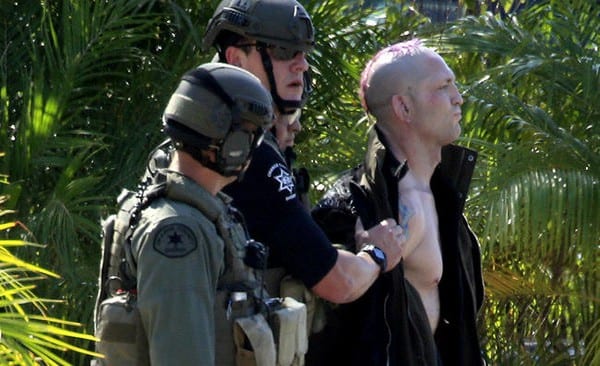 The years rolled on and the erratic behavior and run-ins with the law continued, including two arrests in 2015 – one for battery outside a bar and resisting arrest, and another for assaulting police officers.
In 2016 Miller briefly attempted an MMA comeback, but missed weight by 24lbs and as a result had to fight a different opponent on short notice, who submitted him.
A few months later he was back to his self-destructive ways again, being arrested after injuring a security guard and spitting at a police officer outside a restaurant.
If you enjoyed this story, please share it on social media!