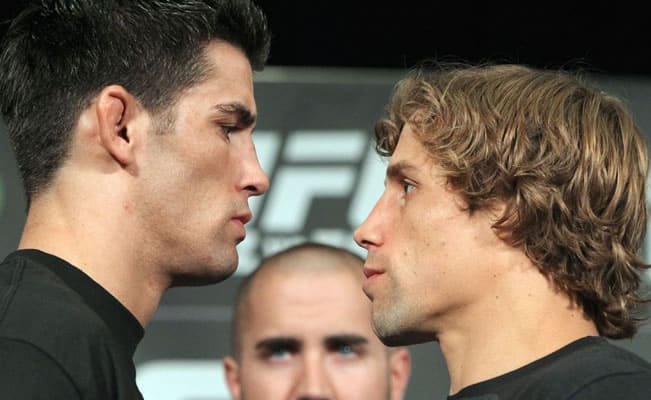 Dominick Cruz vs. Urijah Faber III
With both fighters holding a win over each other, bitter rivals Dominick Cruz and Urijah Faber were all set to conclude their trilogy of battles in the co-main event of UFC 148 in July of 2012.
First off though, the two would star as coaches on 'The Ultimate Fighter: Live' on FX, and it was during that season that Cruz suffered an ACL injury that left him with no option but to pull out of the fight.
Cruz lost out on a small fortune due to that call-off, as he would have taken a champion's cut of the PPV revenue at the UFC 148, which drew close to a million buys thanks to the main event rematch between Anderson Silva and Chael Sonnen.
That was a bitter pill to swallow, but even worse, Cruz would spend the next three years sidelined due to more career-threatening injury setbacks.
As for Faber, he'd lose a fight with Renan Baro for the interim bantamweight title, paving the way for the Brazilian to become the undisputed champion during Cruz's absence.

The two rivals did eventually fight for a third time in 2016, four years after the originally scheduled bout, but by that point Faber was 37 and on the tail-end of his career, and he'd lose out to Cruz by unanimous decision to settle the trilogy once and for all.