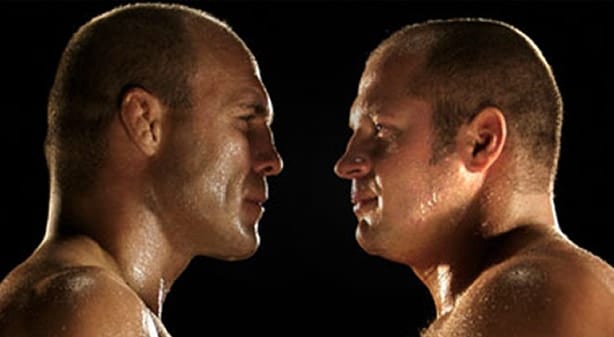 Fedor Emelianenko vs. Randy Couture
Back in 2007 Randy Couture send shockwaves around the sport when he announced he was resigning from the UFC, citing the promotion's failure to sign Russian heavyweight legend Fedor Emelianenko as the biggest reason.
A few months later Couture appeared convinced that a historic superfight with Fedor would take place in 2008, though he'd have to wait out his UFC contract first.
The upstart Affliction promotion were in pole position to host the fight everyone wanted to see, and they even went as far as to shoot a commercial with the two fighters and had Couture enter the ring to call out Fedor after he defeated Tim Sylvia.
However, plans for the dream fight eventually had to be binned after a long and costly legal battle with the UFC eventually forced Couture to back down and return to the promotion.
That was a massive blow for Affliction who had been counting on that money-spinning fight, and they'd go out of business the following year after a replacement match-up with less hype between Fedor and Josh Barnett also fell through.
Afterwards, the UFC threw money at Fedor in an attempt to have the fight with Couture take place under their roof, but instead he signed for Strikeforce.

The perfect time to host the fight with both fighters still at the top of their game had now passed, with Couture losing his heavyweight title in a fight with Brock Lesnar, while Fedor's long unbeaten run came to an end in 2010, leaving only lingering thoughts of what might have been.