Yesterday, Donald 'Cowboy' Cerrone took home his second consecutive win in (roughly) 70 days, when he KO'd Adriano Martins at last night's UFC on FOX 10 event in Chicago, Illinois.
Stepping in and connecting late in the first round, Cowboy caught Martins cleanly on the side of the head with a devastating (right) high kick that placed Cerrone's shin firmly and forcefully across Martin's head, immediately dropping the 31 year old Brazilian to the mat; out cold in his second UFC fight; his first loss in the promotion.
With his clean dispatch of Martins in hand, Cerrone exited the Octagon with the win, the evening's 50K knock-out-of-the-night bonus and having taken no significant damage in the fight. As a result of the last condition, Cowboy is healthy enough to pursue another fight; immediately.
This is important to note, because Cerrone has let it be known in the last couple of weeks that he wants to take six fights this year. To the point, Cowboy reiterated the point at last night's UFC FOX 10 post fight presser.
As Cerrone put it:
"I want to set a record for the most fights in a year. So, can I get six this year? F***ing great. I think Baltimore or Dallas would be great. If there's fighters' out there saying they can't get fights, hey man, I'm your guy."
In his answer, when Cerrone references "fighters out there" that are having difficulty getting matches, he is, of course, referencing Khabib 'The Eagle' Nurmagomedov.
As UFC President Dana White has noted in the last few weeks, he's having trouble finding the 21 – 0 (5 – 0 UFC) Russian fighter an opponent; having offered it to Gilbert Melendez and Nate Diaz, the numbers two and five ranked fighters in the lightweight division respectively, with each turning the number seven ranked Nurmagomedov down.
To this, Cerrone is sending a strong signal that he's prepared to take the fight with the Russian Eagle and that's he's willing to do so at either the March 15th UFC 171 card in Dallas, or the April 26th UFC 172 event in Baltimore; either or.
However, there's another fighter out there who's eying Cerrone and it's not the lightweight Nurmagomedov, but rather the featherweight Cole 'Magrinho' Miller.
Magrinho defeated Sam Sicilia a couple of weeks ago at UFC Fight Night 35 in Georgia and post his round two submission victory over Sicilia, Miller took to the Octagon's center and called out the Cowboy.
As Miller stated in the cage that night:
"I'm a top-ten featherweight, here. I'm trying to come for some of these contenders. There's one guy in particular; I think everybody knows who it is. It's you, Donald 'Clownboy' Cerrone. You've been talking about coming down to 145? Come on down. I'm going to send Mike Dolce over to you, and you can put the bill on me. He's probably going to tell you the same thing I'm telling you, lay off those cheeseburgers and Twinkies, homie."
As to the logic of Miller calling Cerrone out, there is some to it.
Prior to his second round submission defeat of Evan Dunham at UFC 167, a win that saw Cerrone take home a 50K bonus for submission-of-the-night, Cerrone let it be known that he'd like to drop to featherweight.
As Cerrone commented in a "UFC 20 Years" live chat:
"I just think I can really dominate down there. Most people lose a lot of fights and they run down. I'm going to go to 145 after a win and see. I'll still be at 55, though, I'll play back-and-forth. Why not? Go get the belt."
That said, the possibility of Cerrone and Miller meeting would seem a reasonable one. However and without knowing it, Dana White threw pre-emptive cold water on the match at November's UFC 167 post-fight press conference, when he commented "I don't want that kid going to 145…I don't like it…He doesn't have an ounce of fat on his body."
As such, when the issue of Miller's call out was raised to him at last night's post fight presser, Cerrone appeared to have gotten White's message on fighting at featherweight and subsequent to that, he gave Miller's fight offer a wide, if not condescending, berth.
As the Cowboy put it:
"I think the UFC is totally against me going to 145 and I can't drink delicious full-bodied Budweiser(s). That's a lifestyle change, I don't know if I'm committed for that. We'll see. Cole Miller? Win some fights; then come see me. You're at the ass end of a long line of people."
Regarding a fight between Cerrone and Miller, fans might be apt to agree with Dana White. As the UFC's president remarked, Cerrone has no fat on his body when he hits lightweight and any effort on his (Cerrone's) part to cut another ten pounds from his frame and in an effort to make 145, seems like a recipe for disaster.
Given White's view on the matter and the fact that he might simply tell Cerrone that he won't give him a fight at featherweight, the UFC's bottom line on the Cowboy dropping down to 145, grudge match or no grudge match with Cole Miller, might just be one of 'if it ain't broke, don't fix it.' And right now, the last thing that Donald Cerrone looks is broken.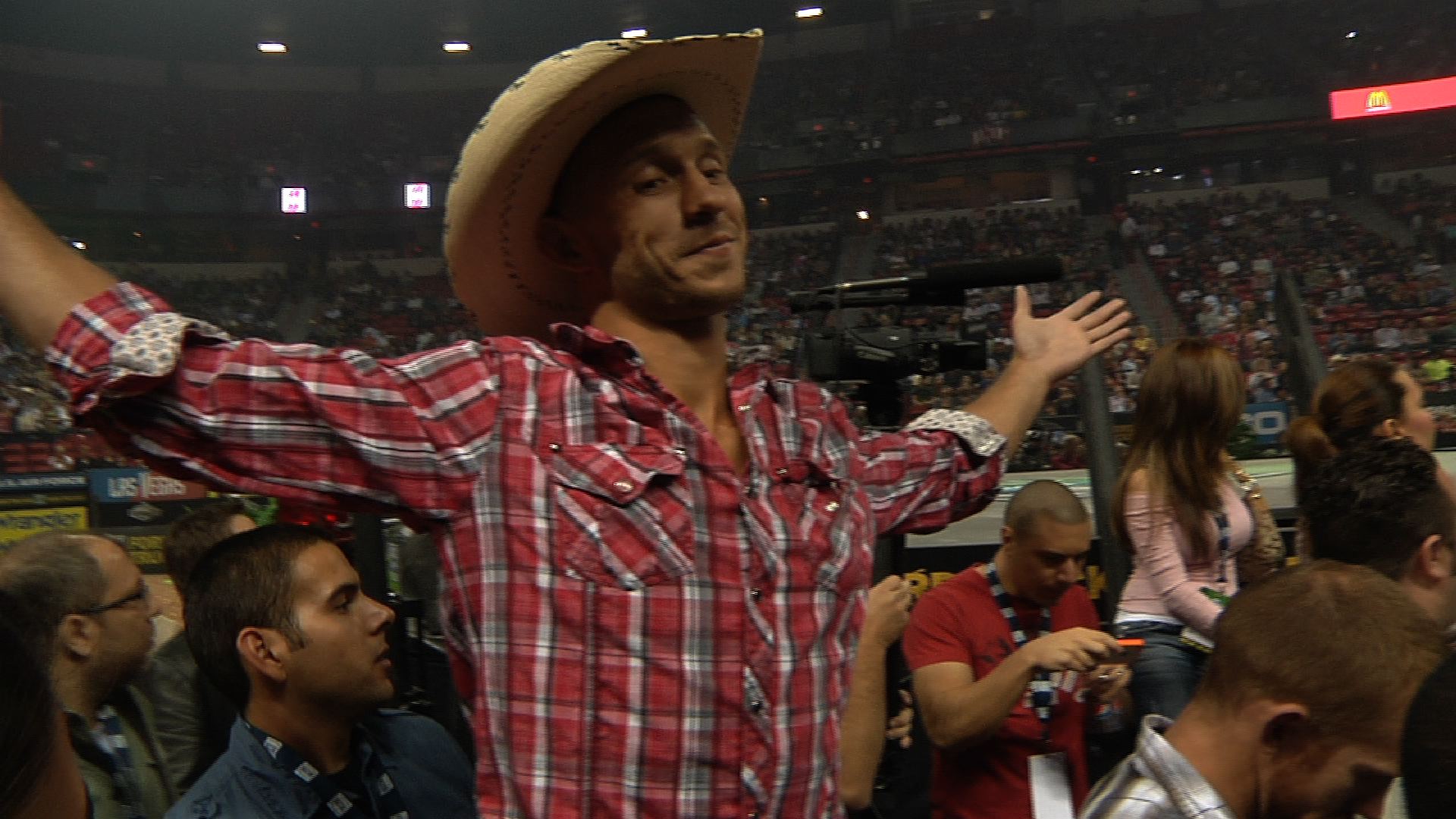 Follow LowkickMMA.com on