Sean McCorkle: Cole Konrad is better than Brock Lesnar in every aspect of MMA
Posted on January 23, 2012, 08:13 AM by Anton Gurevich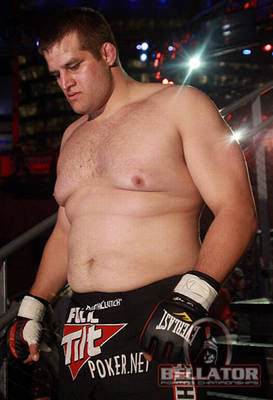 "I bet you guys thought I was going to call him out.
Instead since I am always the bearer of MMA inside information, I thought I'd let you guys know that I have heard from 3 different guys who have trained at Death Clutch that Konrad is considerably better than Brock Lesnar in every single area of MMA. And that he has way with Lesnar whether grappling or striking.
It might not have shown completely in his fights yet, but that's a scary notion if true considering how short a time he's been training." - the UG forums

Once again, UFC veteran Sean McCorkle provides inside info on who is the next big thing in the world of Mixed Martial Arts. This time it's Cole Konrad, who currently trains at Brock Lesnar's DeathClutch alongside Pat Barry, Jon Madsen, and others. Two-time NCAA Division I Wrestling champion Cole Konrad is 8-0 in his MMA campaign, with one KO/TKO and two submission victories. Konrad became the inagural Bellator Heavyweight Championn after beating Neil Grove back in 2010. Konrad competed only once in 2011, getting a "W" over Paul Buentello (Decision) at Bellator 48 in Uncasville, Connecticut.
Further Reading: Submit your picks for UFC on FOX 2