Ronda Rousey will appear naked on the cover of ESPN The Magazine
Posted on July 10, 2012, 03:55 PM by Mike Drahota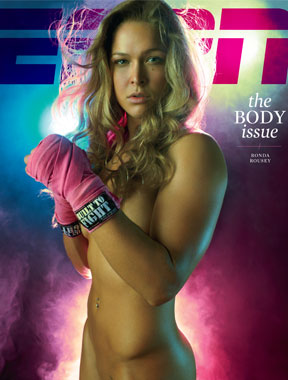 News broke recently that Strikeforce women's Bantamweight champion Ronda Rousey would be appearing in the popular "Body" issue of ESPN the Magazine, which features many top-level athletes in the nude (but with sports equipment and other things blocking out full nudity). Not only will the popular,outspoken Rousey make an appearance in the July 13th edition, she will also be one of only six featured athletes to grace the multiple cover releases of the issue. Rousey joins Rob Gronkowski, Jose Bautista, and Tyson Chandler as cover models.
This is a huge step up in the popularity of women's MMA and the sport as a whole. Rousey has quickly taken the women's side of the sport by storm, using her excellent judo prowess to win all of her fights by dominating first round armbars. She came into high prominence after defeating former Strikeforce champ Miesha Tate with a highlight-reel version of the submission that disconnected all of Tate's tendons in her elbow, requiring surgery. Rousey has also gained a lot of quick fame with her brash trash-talking style, and this coupled with her scintillating new photo shoot should provide a much-needed shot in the arm for the popularity of WMMA.
Rousey is quickly gaining much exposure for her sport, and a nude photo shoot for a high-profile magazine is big news all around, especially for Strikeforce, who is running short on true box-office draws at the moment. What will this publication do for WMMA as a whole? Can it become more and more relevant as compared to the men's side of fighting. Rousey is set to make her very first title defense this August against another former champion in Sarah Kaufman. Will a convincing win by Rousey catapult her into MMA superstardom, perhaps opening up a door for a women's division in the UFC? Or does Rousey already lack quality opposition to her aggressive, brutal style? Does this issue of ESPN the Magazine make her the heir apparent to Gina Carano?
Further Reading: Ronda Rousey vs. Sarah Kaufman slated for August 18th in San Diego
Photo: ESPN.com