Josh Barnett versus Daniel Cormier: A look at the upcoming Fight
Posted on September 11, 2011, 05:37 PM by Trent Reinsmith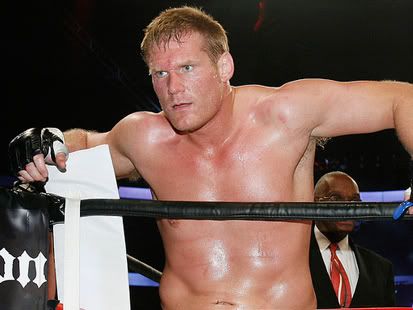 Josh Barnett and Daniel Cormier punched their tickets to the Strikeforce Heavyweight World Grand Prix Tournament final on Saturday night. Cormier was impressive in his first round knockout win over Antonio "Bigfoot" Silva, while Barnett surprised no one using his catch wrestling background to submit Sergei Kharitonov.
When the two fighters do meet it will be interesting to see what style each brings to the cage. Barnett is an accomplished catch wrestler and he used those skills to defeat Kharitonov as well as Brett Rogers. Cormier, a former Olympic wrestler won't be so easy for Barnett to take to the ground and hold there.
The options are go head to head, wrestler versus wrestler, which would give Cormier the advantage or the more experienced Barnett could look for holes in the game of the still developing Cormier and attempt to exploit them. For his part Cormier comes across as confident in his skills, but not cocky, and he does have the stable at American Kickboxing Academy behind him to prepare him for the upcoming fight, providing him with a well rounded attack.
Another thing that all MMA fans like to ponder are divisional rankings. Going into Saturday night Barnett was viewed by many as a top ten fighter in the heavyweight division, while Cormier, due to his relative inexperience and level of opponent most likely fell somewhere in the top 20-25 range. Barnett's win will probably not catapult him much higher in the rankings as it was not wholly unexpected, but Cormier will surely see a jump as he defeated a fighter that was firmly entrenched in the top 10 in the heavyweight division.
Going forward, if Barnett defeats Cormier it will be a nice feather in his cap, but again, it will not provide him with a major surge up the rankings. However, if Cormier is able to take out Barnett after knocking out Silva it's probably safe to assume he will find himself in the top ten of the heavyweight division.
Another thing to ponder is, does it make sense for Strikeforce to soften their stance on naming the winner of the tournament the Strikeforce Heavyweight Champion? Compelling arguments could be made on both sides of this debate, but a fight promotion without a Heavyweight Champion is far from the norm.
So, what do you think LowKick'ers? Who wins between Barnett and Cormier and should that winner be awarded the Strikeforce Heavyweight title along with the Grand Prix title?