Cole Konrad, Bellator Heavyweight Champion hangs up his gloves
Posted on September 13, 2012, 08:08 PM by Mike Searson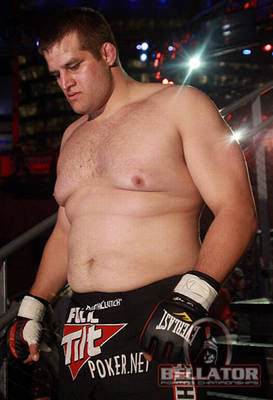 Bellator Heavyweight champion Cole Konrad (9-0 MMA, 7-0 BFC) has retired, the promotion announced today. Konrad walks away from MMA with an unblemished record and is set to become an agriculture commodities trader specializing in dairy products.
The Wisconsin-native stated: "This decision has been on my mind for a while, and the time was finally right to make the move."
Konrad wrestled for the University of Minnesota, where he was a Division I national champ in 2006 and 2007, a four-time All-America selection and a three-time Big Ten Conference champ. Konrad began his MMA training at Team Death Clutch in Minnesota which was started by former UFC champ Brock Lesnar. In 2010, the first year of his pro-MMA career, he maintained a 7-0 record and won the Bellator Heavyweight championship tournament.
However Konrad says his career as a fighter is over: "I wrestled my whole life, and it was one of the only things I ever knew. When my college career was over, MMA seemed like the natural progression, but it was never really my passion. I thoroughly enjoyed my time inside the Bellator cage, but having the consistency and stability of going to the office every day is something that just made sense to me. I can't say enough good things about my time with Bellator. I enjoyed every second of my time in the cage, and having a boss like Bjorn was a pleasure. Bellator does things the right way, and if I ever find myself back in the cage, there is no doubt in my mind it will be with Bellator."
Bellator CEO Bjorn Rebney had nothing but praise for Konrad and said he and matchmaker Sam Caplan will come up with a plan to fill the now vacant Heavyweight title: "There are very few fighters in MMA who can completely control a fight like Cole Konrad could. Cole's a very smart and gifted individual who will continue achieving excellence in everything he does. I wish Cole, his wife and family the very, very best as he moves into this new stage of his life. Cole was a great Bellator champion, and now Sam and I will determine exactly how and when the new Bellator heavyweight champion will be crowned."
Bellator's Season 7 Heavyweight tournament begins on October 5 at Bellator 75 in Hammond, Indiana.