Photo Report: BAMMA USA Bad Beat 6
Posted on July 17, 2012, 07:09 PM by Anton Gurevich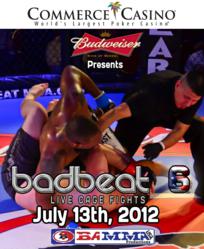 Badbeat 6 presented by Budweiser took place last Friday at the Commerce Casino (Commerce, CA) with an all professional 10 bout fight card. The large enthusiastic audience in attendance and thousands of BAMMA USA fans on the internet witnessed some quick knockouts, some closely contested bouts and just an outstanding night of MMA action.

'Joker's Comeback Continues

"I was apprehensive about having 'Joker' headline for a second straight time but as it turned out, he ended up being the Main Event and both 'Joker' and Dizak delivered," remarked BAMMA USA CEO Brett Roberts in a post-fight interview. Mike 'Joker' Guymon kept his dream of returning to the UFC alive by winning his Lightweight fight against Xtreme Couture's own 'Magic' Mike Dizak. Guymon had his hands full in the first round as Dizak pressed him into the cage, engaging him with a grinding clinch that kept Guymon from mounting any kind of offense. Dizak scored a takedown early in the second round but that seemed to awaken Guymon's offense as he was clearly the aggressor in the round, pushing the pace with effective strikes from various positions. In the third and final round Dizak attempted to return to the approach he used in the first round but 'Joker' evaded the clinch and when the fight went to the ground, 'Joker' delivered relentless heel kicks to the back of Dizak's legs from the bottom position. All three judges scored the fight 29-28 in favor of Mike 'Joker' Guymon. A fracture in Guymon's right shoulder suffered early in training camp had made this "the hardest training camp" he had ever had, according to 'Joker'. Guymon, who battles depression, had retired from MMA due in part to a much publicized suicide attempt. After counseling and a change in his medication, 'Joker' successfully returned in March of this year with BAMMA USA in a new weight class (Lightweight). Guymon's record is now 2-0 in his comeback attempt.

Beal Remains Unbeaten

In the Co-Main Event, 'The Real Deal' Chris Beal won his 6th straight fight against Kana 'One Man Riot' Hyatt, keeping his record unblemished. Hyatt made Beal work in every round and even had a tight choke in place in the third round but Beal escaped. With Beal's mother in the audience, he was determined "not to lose or my mom would never come to one of my fights again," stated Beal in a post-fight interview. 'The Real Deal' had his son participate in his walk-out and with Beal's younger brother also in attendance it no doubt had a positive effect on his performance. Beal appeared determined and excited the crowd by continually pushing the pace and taking chances at finishing Hyatt at every attempt. The judges agreed by giving the Knuckleheadz Boxing & MMA product a Unanimous Decision win. This marks the fourth consecutive win for Beal inside the BAMMA USA cage, a place he considers as "his home".
Full BAMMA USA Badbeat 6 Results (via MMAMadMan.com):
Mike Guymon (14-5) won by UD over Mike Dizak (5-5)
[15:00] - 3 Rounds
Chris Beal (6-0) won by UD over Kana Hyatt (9-12)
[15:00] - 3 Rounds
Steve Magdaleno (9-3) won by TKO over Tom Gloudeman (6-2)
[2:14] - Round 1 - punches and elbows
Mike Jasper (5-0) won by SD over Manny Murillo (4-1)
[15:00] - 3 Rounds
Lew Polley (11-4) won by SD over Mike Smith (0-1)
[15:00] - 3 Rounds
Chris Culley (13-10) won by SUB over Vince Ortiz (7-9)
[14:15] - 4:15 Round 3 - RNC
Eric Brown (8-9) won by KO over Josh Thornburg (8-6)
[0:13] - Round 1 - punches
Max Ceniceros (2-2) won by TKO over Eric Winston (2-1)
[4:31] - Round 1 - punches
Jason Manly (2-0) won by SD over Jorge Valdez (0-1)
[15:00] - 3 Rounds
Tony Stewart (1-0) won by KO over Teshawn Walls (1-2)
[0:12] - Round 1 - strikes
LowKick.com photographer Scott Hirano was on site to bring the following photo-report from Commerce Casino in Commerce, California. As always, feel free to follow Scott on Twitter @ScottHirano.